I am back, finally with pain muscle, pain toes and nails, nothing major at all. I still can walk today, I mean I feel the pain but nothing serious at all, which is quite strange. I thought that I will be in deep pain, but no, not really. I think that I feel even worse in dance class.
Gong Gong
supposed to fetch me at 7am sharp but he came at 7.20am having problems with the car.
Steven
met with an accident at 3am the same morning. 2 cars are not working. Had to wait for
ex-papa
to come to pick us up in Setapak.
We started walking, walk and walk.
Patato
and
Pali Pali
so da terror, dunno what stamina they have. -_- But, I walked as usual hehe, resting here and there but I still felt the pain at my ankle from the previous day when the trolley knocked into me :s adoi damn pain okies, with the others (
Lulu,
Lolo, Bunny
), sometimes left alone, it's afternoon anyway. But then, I did what
Claud
asked me to do :) So I think it's alright. Luckily, I don't take those I watched on tv and movies into reality. Be cool be calm.
We reached to a camp site where we can see waterfall and have to wait for ex-papa and gong gong to reach. Somehow
Mama
reached first, I thought that they are together. I was tired obviously but suddenly a stupid bee stung me. Shit that bee! I was in deep pain. Very very damn bloody pain. I have nothing to apply but
Lolo
gave me Tiger Balm, at least it's better than nothing. Later on, I slept on the ground hehe waiting for them.
We continued our journey to Lolo camp. It's just half an hour away. On our way we saw ... fomally orang asli's shelter. My gang wei hehe. Then up and up and up, finally we reached!!! Omg! We reached!! Finally phew!
Aaron
and
Steven
came up later in the evening.
Here are some pics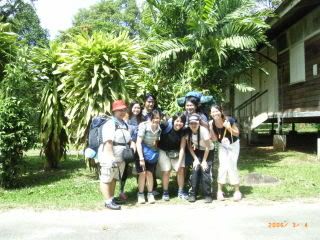 Our first group pix before going up ... but then Gong Gong didnt manage to get in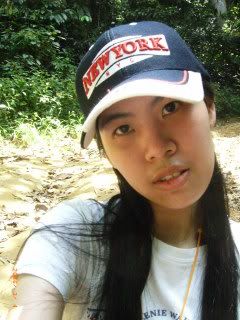 I was walking but then rest time hehe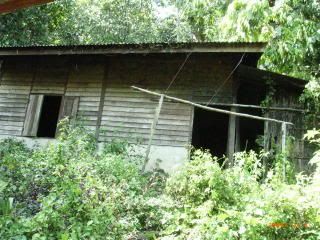 Orang asli's shelter (formally) but now it's empty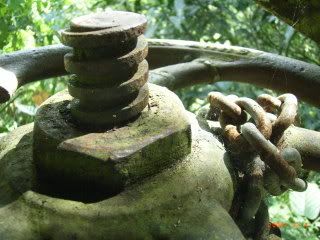 A chain?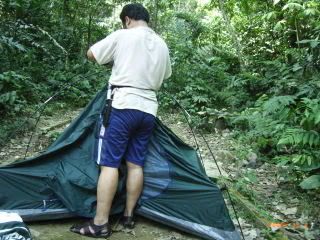 Gong Gong setting up a camp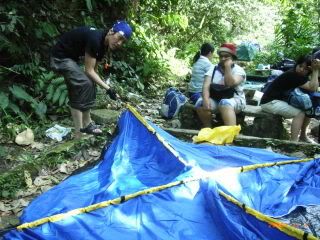 Lulu for Camp 2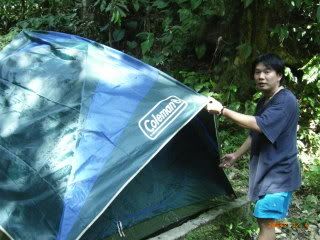 Ex-papa Camp 3